(866) 366-8847

Get Started
Online Courses
Resources
National University
Virtual High School
Social Network


National University Virtual High School (NUVHS) offers the premier high school online learning experience. NUVHS strives to provide students the opportunity to achieve academic excellence through creating an active, engaging and cooperative online learning environment. NUVHS students are able to enroll in NUVHS online high school courses throughout the year and can complete a full semester of a high school course in as few as four or as many as 16 weeks on a full or part-time basis.
moreIntroductory Video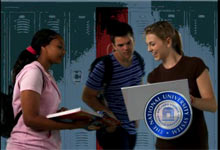 Introductory Video
View a 30 second video to learn more about the online and on-campus high school curriculum offerings.